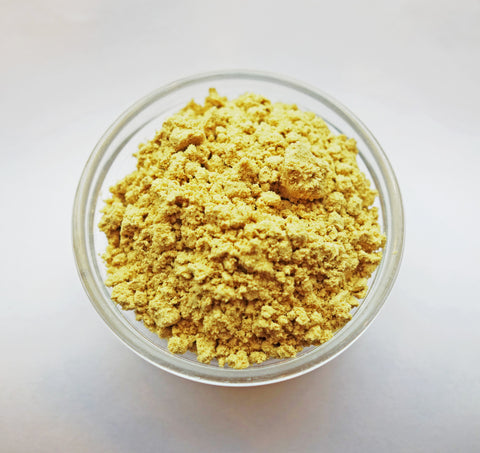 Ginger, powdered
This silky powdered organic ginger smells sweet and tangy and peppery, all at once. This ginger is bright and delicious, adding lovely ginger essence to baking, cooking,and beverages. You can also add it to your own spice blends.

This is one of our favorite recipes. You can substitute half white rice and half brown rice flour for the all purpose flour. You can also add a 1/2 teaspoon of xanthan gum. Enjoy!

Double Ginger Cookies
makes 30

½ cup candied ginger, minced
¼ cup molasses
2 tablespoons bourbon (opt.)

1 cup + 3 tablespoons brown sugar
¾ cup (6 ounces) butter
1 egg

2 ¼ cup all-purpose flour
1 tablespoon + 1 teaspoon ground ginger
¼ teaspoon cinnamon
¼ teaspoon cloves
2 teaspoons baking soda
½ teaspoon salt

1/3 cup sugar in a bowl (for rolling before baking)
• Mix first three ingredients in a bowl. If you want your candied ginger in little chunks, leave it minced. If you want your cookies smooth and chewy, purée these ingredients in a blender or food processor.
• Mix flour, and the contents of the other tin in another bowl, set aside.
• Cream butter and brown sugar until fluffy.
• Beat egg into butter and brown sugar mixture.
• Add the crystallized ginger mixture and beat until combined.
• Add the dry ingredients in two additions, mixing until just combined after each.
Chill until firm (approximately 2 hours) and then roll by heaping tablespoons into balls. Roll in sugar. Set 2-3" apart on greased or parchment covered baking sheets. Bake in a 325 degree oven for 15 minutes.