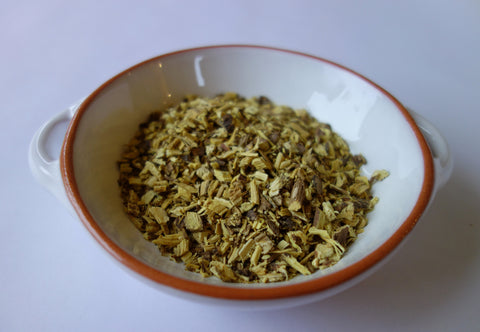 Licorice Root, cut and sifted
Use this organic Turkish licorice root in a simple herb tea by boiling it with ginger and then adding honey. Or, simmer it in sugar water for use in cocktails, caramels, homemade soda, beer, wine, or baked goods.
Some people use licorice root for indigestion, and it's been shown to help with it.
To read about what the University of Maryland's Alternative Medicine guide says about licorice's uses, please read:  http://umm.edu/health/medical/altmed/herb/licorice
Your licorice will arrive in a lined, sealed bag.
Please note: Over-consumption of licorice root can cause high blood pressure and low potassium. Do not consume if you are pregnant. Licorice can cause Warfarin (coumadin) to be ineffective. Basically, if you intend to consume large quantities of licorice, consult your doctor first.