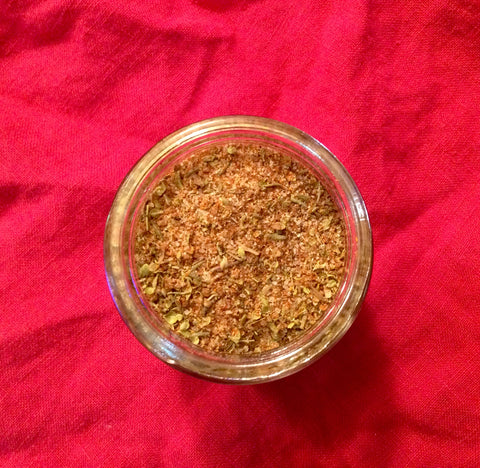 Chicken & Ribs Blend (formerly known as Rotisserie Blend)
Our newest blend is a delectable workhorse. Use it on a roast chicken, mix it with honey and vinegar and marinate ribs in it, or use a touch to liven up your scrambled eggs (trust us, it's a wonderful combo!). 
The flavors of 4 kinds of chilies, mixed with aromatics and green herbs, and touched with salt and brown sugar, makes for a blend you'll want to try on just about anything. Potatoes? Sure! Onions? Yes! A quick sheet pan dinner of chicken thighs, broccoli, and corn? Absolutely!
Please select the size you'd like from the drop-down menu.
Contains: salt, paprika, smoked paprika, chipotle chilies, birdseye chilies, garlic, shallot, oregano, thyme, brown sugar, and ginger. All organic except the shallot.