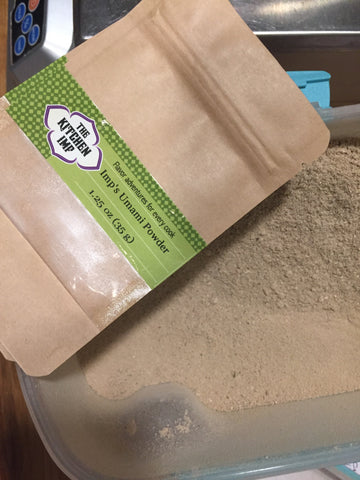 Imp's Umami Powder
You've seen versions of umami powder at Trader Joe's, Nom Nom Paleo, and so many other spots. Ours is like theirs, but what sets ours apart is the combination of porcini and shiitake mushrooms, rather than domestic mushrooms. We also add a touch of nori for an extra savory zip. We started to make this blend in December 2019 and have had trouble keeping it in stock. 
How should you use it? You can sprinkle it on tofu before crisping it up, add it to ground beef for a surpassingly tasty burger, add it to butter to use on grilled cheese sandwiches, use it as a popcorn seasoning, sprinkle it on grilled or roasted vegetables, or add it to red sauce to make all of the flavors pop. 
Please select your size - from a 1.5 ounce packet up to a pound - from the drop down menu.